Teranex Mini Smart Panel
Teranex Mini Smart Panel
Monitor video on your converter!
The Teranex Mini Smart Panel takes the guesswork out of using a converter! Now you can see the video going through your converter using the built in LCD screen. The panel also features push buttons and an easy to navigate on-screen menu that lets you quickly adjust and save settings. The Teranex Mini Smart Panel is perfect when you're out in the field or on set without external monitors, or even when you have multiple converters mounted in equipment racks and just want to see what's going through them all!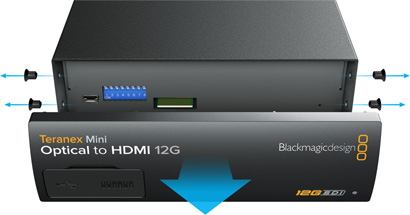 Step 1
Remove the two screws on each side of the existing panel and gently pull it off.
Step 2
Plug in the Teranex Mini Smart Panel and fasten using the screws.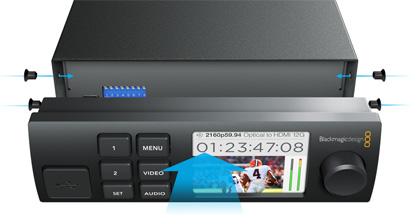 Reinventing the Mini Converter
The first mini converter you don't have to hide!
Teranex Minis are so small that you can use them like regular mini converters such as hiding them in cable ducts, behind equipment and attached to televisions for monitoring. Teranex Mini's new flexible design lets you use them on the desktop where you can see them, or rack mount them in larger broadcast systems. Unlike regular mini converters, you get full size professional XLR audio connections built into the converters, plus each converter has an ethernet connection so they can be administered remotely. You get mini switches so you can change settings instantly or, when you're doing mission critical work, you can add the optional front panel to see exactly what you're converting.