Davinci Resolve Mini Panel
High
Resolution Displays
The DaVinci Resolve Advanced Panel and DaVinci Resolve Mini Panel feature bright full color displays allowing full control over the massive creative toolset built into DaVinci Resolve. The displays show menus for the soft knobs and soft keys, as well as visual feedback of the knob adjustments in real time. Menus update to the current toolset automatically as you use DaVinci so you get the quickest and most direct keys to every feature, and you never waste time searching through long complicated menus.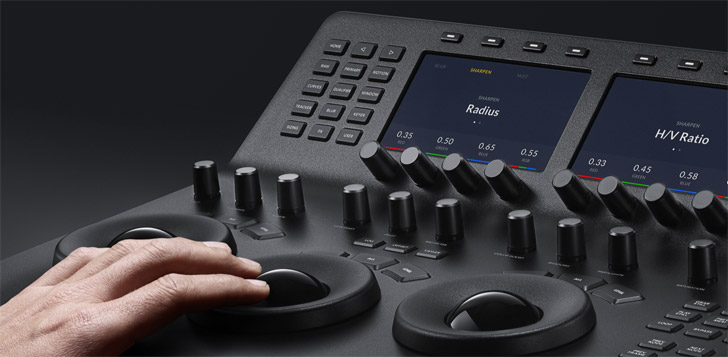 Professional Trackballs
Trackballs provide RGB balance adjustments for lift, gamma and gain, each with a master level control. The Advanced panel also features a dedicated RGB offset and master gain trackball to adjust the color balance and brightness of the entire image. The trackballs can be set to work in either log or RGB with the touch of a button.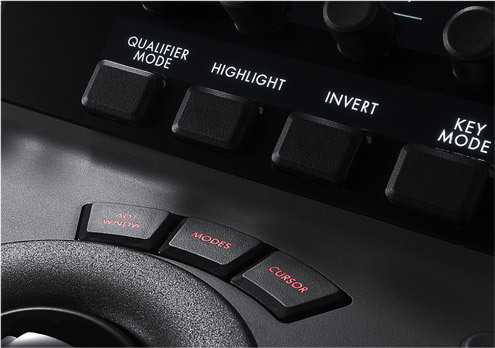 Illuminated Keys
The buttons and keys on the DaVinci Resolve control panels illuminate when selected so you can easily see which controls are active. On the Advanced and Mini panels, the keys are also backlit, making it easy to clearly see each button in a dimly lit suite!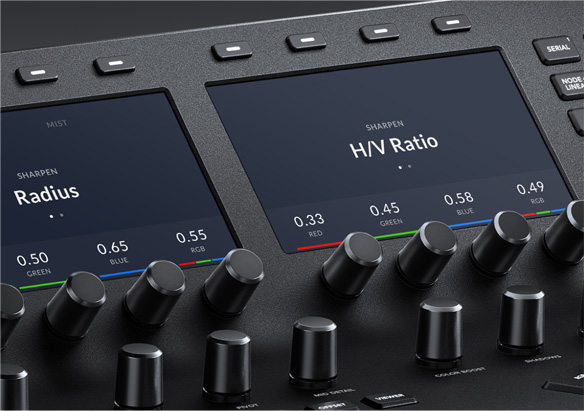 Soft Knobs
With 30 customizable soft knobs on the DaVinci Resolve Advanced Panel and 8 on the Mini panel, you get super high resolution, flexible parameter adjustments that you can reset back to the default with a simple push.

Quickly Change Tools
The DaVinci Resolve Advanced and Mini panels include dedicated feature buttons that let you quickly change tools so you don't have to switch back and forth between the mouse and panel. With the push of a button you can easily access tools such as the RAW palette, primary color correctors, curves, qualifiers, windows, tracker and more.
Still StoreReference
 

Management

Colorists constantly grab and play stills to compare grades using the gallery. The DaVinci Resolve Advanced, Mini and Micro panels have dedicated keys to quickly save and recall stills. On the DaVinci Resolve Advanced Panel you can also use the fader T-bar to wipe between saved stills and your grading timeline.
Transport Controls
The play forward, reverse and stop transport keys on all the panels give you full control of your project timeline or deck while the Advanced panel adds a jog/shuttle knob for faster and more precise scrubbing.
Slide Out Keyboard
Use the DaVinci Resolve Advanced Panel's slide out keyboard when you need to enter clip metadata, name files, nodes or put notes on markers. When you're finished, the keyboard retracts into the control surface.

Flexible Power Options
The DaVinci Resolve Micro Panel is fully powered via USB so you can simply plug and play to get up and running. Power over USB means you can use it with a laptop and it will operate from the laptop's battery, making it ideal for on set grading. The DaVinci Resolve Mini Panel also includes ethernet so it can operate via your network, making it fantastic for larger facilities. Plus, the ethernet PoE support means it can even power itself via the network connection so you don't need to plug in the power connection!